Ze
Talk

2
465pages on
this wiki
Ze Royal Viking

Ze's current Youtube logo
Name
Steven
Age
21
Birthdate
April 12 1993
Subscribers
476,000+
Aliases
ZeRoyalViking, ZeMachinima, Zeven
Joined the Creatures
2009
Note: This page's information was requested to be removed on behalf of Ze himself, (See his Twitter updates from April 19, 2014, for more information). The unneeded information has been removed,' but clean up effort would be appreciated.

Steven "Ze" is a Creature, being one of the founding members along with Kootra. He is known for his knowledge of computers and "Creeper-esque" viking helmet logo. Ze reports that the old viking helmet was a helmet from Halo 2 because he wanted to use something he owned.
History
Ze is from Sacramento, CA. He started his YouTube channel in June 2008 as a hobby making "Machinimas". He later went into let's plays. He helped start up the Creatures with founder Kootra. He currently stands at 476,000 subscribers and  has over 74,000,000 views. He has made several appearances on Creature Talk. He also plays numerous games, many with Kootra, such as their notorious Rock of Ages Series. When the initial plans for the Creature House were announced, Ze had plans to move to Colorado after finishing College at Sacramento State. He later would move to Phoenix to attend ASU before returning to Sacramento once more afterwards.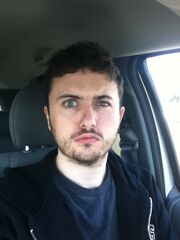 Currently Ongoing Games
GMod Prop Hunt
Depth w/ Friends
Draw My Thing Quad Facecam w/ The Derp Crew
Cards Against Humanity
GTA V Random Multiplayer
Triva
Main article: ZeRoyalViking/Trivia
Ze was the youngest Creature, until the addition of Kevin.
He was one of the first Creatures.
He is also a member of the Derp Crew.
Links
Sources