The Derp Crew
Talk

1
412pages on
this wiki
The Derp Crew
is a group of gamers that started shortly after
Chilled Chaos
left the Creatures. Chilled met Smarty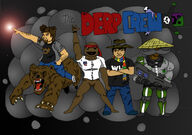 and Diction when they were guests on
Creature Talk
. The Derp Crew does not normally play with the Creatures. However, some of the members such as Chilled and Diction play with some
Creatures
from time to time. They were on hiatus for a while and are now back with new members and the
revival
of one of their better known series, DerpCraft.
After playing with each other for a while, the group decided to name their group "The Derp Crew" as they make fun of themselves for "sucking at games" and "being dumbs".
DruoxTheShredder was a  member of the group. He has left The Derp Crew after stating that they are "bad people" (as seen in this video). The reasoning behind this is because Chilled and Diction decided not to play with him anymore without telling him (Druox has come out with a Tumblr post about it here). The group went on hiatus around this time. They got back together with a new cast in February 2013 and revived DerpCraft. Chilled has not been a part of this series, yet he is still a part of The Derp Crew. It has been said by Galm, Rorach, and Smarty that Chilled knows he is welcome to join the series whenever he wants, through annotations and comments in their DerpCraft videos.
Despite popular belief, The Derp Crew was never disbanded and there is no bad blood between the Derp Crew and Chilled and Diction. Members of the Derp Crew, mostly Smarty and Galm, continue to play games with both of them. The Bros Angels is only another gaming group Chilled has formed and is not a replacement of The Derp Crew.
DruoxTheShedder
TomFawkes (mutually left due to inactivity - mentioned near end of 29/12/13 (12/29/13 for US citizens) stream.