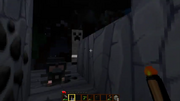 The Rat Conspiracy
is a conspiracy that
James
found out when doing his Tri-Mountain Survival on Minecraft. It is a conspiracy that the Rat Government has not released any truth about.
When doing his Tri-Mountain Survival on Minecraft, Nova picked up a rat from his Minecraft mod and threw it. The rat then found the Creeper's lair and made a deal with them saying that Nova needed to be taken care of. A rat then led Nova in a trap and a Creeper killed him. Rats and Creepers have been working together to kill Nova ever since. It then became worse as ninja rats have been deployed to try and take Nova out.
Ad blocker interference detected!
Wikia is a free-to-use site that makes money from advertising. We have a modified experience for viewers using ad blockers

Wikia is not accessible if you've made further modifications. Remove the custom ad blocker rule(s) and the page will load as expected.