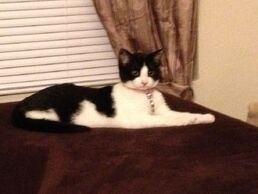 Tali is a cat belonging to Kootra. She is named after a character from Mass Effect, like Wrex and Shepard.
History
Tali's first appearance was in episode 10 of Kootra's RCT3 play-through. You can often hear her growling and hissing at Shepard and Wrex as well as meowing randomly.
According to Kootra, Tali might have had a bad past with cats, therefore, she didn't get along with Shepard and Wrex that much. However, it has seemed that she has adjusted well, as you can sometimes hear Kootra complain that the three cats play too loudly.
In 2012, Kootra announced that Tali got pregnant. He also said it was Shepard who "did it". That caused many comments, tweets, and other forms of communication to give their thoughts on the matter. On July 31st, 2012, Tali gave birth to a kitten. Early August 1st, 2012, after falling asleep on the floor Kootra woke up to a second. Dan and James each got a kitten. Dan's cat is gray and named Fisher after the character Sam Fisher from Splinter Cell, and James named his gray-and-white cat Moh-Ding.
Trivia
Kootra found out that Tali likes to play with straws after he saw her playing with one. 

02:49

Tali & Straws (Wrex and Shepard too)
Ad blocker interference detected!
Wikia is a free-to-use site that makes money from advertising. We have a modified experience for viewers using ad blockers

Wikia is not accessible if you've made further modifications. Remove the custom ad blocker rule(s) and the page will load as expected.