Stuck in Your Radio
Talk

0
338pages on
this wiki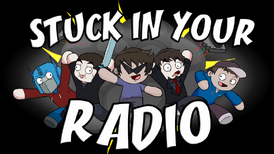 Stuck in Your Radio
is a band featuring
Sly
as lead vocals,
Immortal
on bass, Devin on lead guitar, John on rhythm guitar and CJ on drums. Originals were John, Sly, and CJ
The band started about five years ago between Sly and his friends, including Tyler as their bassist at the time, when they produced four songs, including Make This Your Dance Floor which was used in Sly's intros and got the band into the internet limelight. The band went into a hiatus for a while but reformed again, taking on Immortal to replace Tyler and recording new songs. In February 2012, the band released their first digital EP: self-titled and featuring 6 songs.
They are currently making a new album (no title released yet) and they have said on their Facebook that they are doing the finishing touches. The album is believed to be released around the winter months.

They also have a series on Sly's channel called "SIYR Plays" where they will play various games. The first game in the series was "Super Mario Bros. Wii".