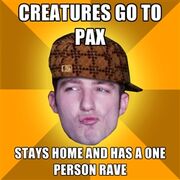 Scumbag Kootra 
(commonly called
Scumbag Koots
) is a running gag and a meme in The Creature universe and on the internet. It is similiar to the Scumbag Steve advice animal, where it features a man in a MLB hat, and it states a rude response to something (ex. "Sees you eyeing an open parking spot. Takes it")
Origins
After some of Kootra's rude responses to him, Ze made a template of Kootra wearing the Scumbag Steve hat and told people to spread it and make some memes. It later blasted into popularity and is now a running gag between the fanbase and Creatures. Now Kootra attempts to pass it onto the other creatures.
Trivia
Kootra commonly calls James "Scumbag James" usually on Creature Talk
Kootra has stated he wants to recreate the shot of Scumbag Steve, with himself. He said he has seen the Boston Red Sox hat depicted in the meme before, but can't find it anywhere.
During a "Wake Up with Sly and Kootra" Sly called Kootra "Scumbag Kootra" after he stole Sly's Pentakill in Smite.
The phrase has also become a Hashtag.
Links
Ad blocker interference detected!
Wikia is a free-to-use site that makes money from advertising. We have a modified experience for viewers using ad blockers

Wikia is not accessible if you've made further modifications. Remove the custom ad blocker rule(s) and the page will load as expected.