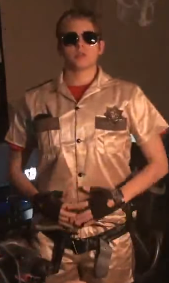 Lt. Dangle is an alter ego of Seamus, who was introduced during the 24-Hour LiveScream.
Lt. Dangle is most notable for his short shorts. Each time Dangle bends over, people may see more than they bargained for.
He enjoys short shorts and bending over.
Sometimes people can see his "package" or "goods" when he bends over. This is a sight not many people expect to see.
Ad blocker interference detected!
Wikia is a free-to-use site that makes money from advertising. We have a modified experience for viewers using ad blockers

Wikia is not accessible if you've made further modifications. Remove the custom ad blocker rule(s) and the page will load as expected.