Kootra's Lowlights is a mini-series created by Kootra to show off either his funniest moments or his worst moments on his channel. It is much like Nova's Channel Classics but pretty much the opposite.
History
After Nova's Channel Classic videos, Kootra decided to do a joke of it and make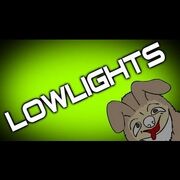 Kootra's Lowlights where he shows off his worst moments with a "MLG" speak (ex. "Hello" is h3L10).
Episodes
Ad blocker interference detected!
Wikia is a free-to-use site that makes money from advertising. We have a modified experience for viewers using ad blockers

Wikia is not accessible if you've made further modifications. Remove the custom ad blocker rule(s) and the page will load as expected.