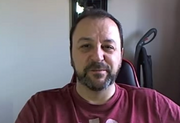 KenBurton 
is/was a friend of the Creatures. He would normally do things with 
Junkyard
 but they had been joined by 
Kootra
 and 
Chilled
.
KenBurton started his YouTube channel on Nov 17, 2009. He became well known as the KenBurton Show, on Mar 1, 2010 Junkyard became a co-host on his podcast, they where also joined by Kootra and Chilled. KenBurton started doing more with Junkyard due to popular demand, and eventually became a guest on episode 11 of Creature Talk. Soon after that he had very little interactions with the Creatures.
Series with the Creatures
Edit
Refrences
Edit
Ken Burton & Junkyard129 Podcast 01/03/2010 (HD) The Ken Burton Show Part 55: Ken vs Junkyard #1 (MW2 Gameplay/Commentary) [HD
Ad blocker interference detected!
Wikia is a free-to-use site that makes money from advertising. We have a modified experience for viewers using ad blockers

Wikia is not accessible if you've made further modifications. Remove the custom ad blocker rule(s) and the page will load as expected.