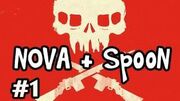 Joe and John is a gag/series created by Nova and Sp00n in their Resistance 3 playthrough on the PlayStation 3 console.
When the two started the cooperative campaign, Sp00n's character was named Joe (or Joseph), the main character, and Nova's character was named John. The two laughed at how the names were 'the whitest names' and unoriginal. The two then named the episode titles "Joe and John _____".
The two have stated that almost every other character has an unoriginal name.
Resistance 3 Co-Op Walkthrough w/Nova & Sp00n: Ep.1 Adventures of Joe and JohnResistance 3 co-op Playthrough w/ Nova asldk 1
Ad blocker interference detected!
Wikia is a free-to-use site that makes money from advertising. We have a modified experience for viewers using ad blockers

Wikia is not accessible if you've made further modifications. Remove the custom ad blocker rule(s) and the page will load as expected.