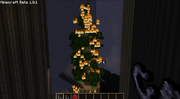 Ficus was a running gag amongst several Creatures. The joke revolved around mistaking any species of tree for a ficus, which is actually a genus of 850 tropical trees and shrubs native to southwest Asia and the Mediterranean region.
Several Creatures, including Nova, Seamus, Ze, and Sly, have referred to trees encountered in-game as a ficus, regardless of what the tree actually looked like.
Currently, the most infamous ficus was the one featured in Nova's playthrough of Overlord's: "Tom and Jerry: Jerry's Adventure" Minecraft map, in which he and Seamus had to "put the moves" on the ficus to complete an objective.
A ficus was also briefly mentioned in Sly's Sonic Generations playthrough when Sonic landed on a tree which Sly reaction to by saying "What the fuck? I'm on a ficus?"
Ad blocker interference detected!
Wikia is a free-to-use site that makes money from advertising. We have a modified experience for viewers using ad blockers

Wikia is not accessible if you've made further modifications. Remove the custom ad blocker rule(s) and the page will load as expected.