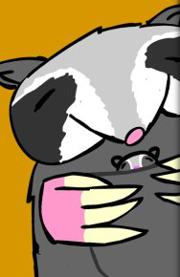 Creature Cody is the son of Coby, another Creature mascot.
History
Creature Cody was first revealed at the Creature 24-Hour livestream celebrating the finding of the Creature House.
Trivia
Creature Cody and Coby are the second of many mascots for The Creatures, after Creature Carl.
He usually hangs out in Coby's pouch.
It is stated in the 85th Creature Talk that Creature Coby and Cody were designed by Ze, while Carl was created by James.
Ad blocker interference detected!
Wikia is a free-to-use site that makes money from advertising. We have a modified experience for viewers using ad blockers

Wikia is not accessible if you've made further modifications. Remove the custom ad blocker rule(s) and the page will load as expected.