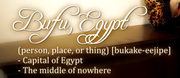 Bufu, Egypt is a running gag between Creatures. It is used to describe somewhere far or the middle of nowhere.
History
It was started by Seamus and used in many of his let's play's. During The Ex-Communicated Series he used it to describe where Nova was building. Since then the rest of the Creatures started to use it. It was requested by fans to be defined in Sarcasm with Seamus.
Ad blocker interference detected!
Wikia is a free-to-use site that makes money from advertising. We have a modified experience for viewers using ad blockers

Wikia is not accessible if you've made further modifications. Remove the custom ad blocker rule(s) and the page will load as expected.