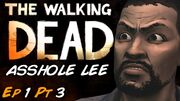 Asshole Lee is Danz' series where he plays through The Walking Dead Game, while making all the bad choices.
The series started because Dan had cared about all the characters in the game and wanted to make a playthrough where he doesn't.
After Asshole Lee, Dan said he'd do Asshole Clem and then maybe Asshole Bigby from "The Wolf Among Us".
Ad blocker interference detected!
Wikia is a free-to-use site that makes money from advertising. We have a modified experience for viewers using ad blockers

Wikia is not accessible if you've made further modifications. Remove the custom ad blocker rule(s) and the page will load as expected.