AshhBearr
Talk

2
412pages on
this wiki
AshhBearr

Some attributes

First
Real Name: Ashley Patching
Second
Born:
Third
Lives: Colorado

Other attributes

Fourth
Creature connection: Seamus
Sly
Ashley 'AshhBearr' Patching is a friend of the Creatures and mostly plays with Seamus and sometimes Diction. She is also Seamus' girlfriend. 
She has been seen in a video on TheCreatureHub YouTube channel of James at PAX East. She has also appeared in
Creature Talk
around the 1:20:40 mark in this
video
. She moved out and lived in an apartment by herself near the Creature house before moving in with
Seamus
in another apartment.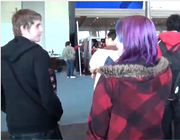 As of 11/11/2013, AshhBearr was now part of COGxx, COGnitive Gaming's all-female Smite competitive team. The announcement was made in this thread. AshhBearr is noted as playing the support role on the team.  However, by Febuary 2014 she quit.
Current Games
Edit
L4D2 w/ People (Seamus and/or Lazycannuck)
Minecraft Daily w/Slyfoxhound, Nova, and/or Kevin
Pokemon Brown: Legend of the Poop
The Sims 3
Scribblenauts Unlimited
SMITE
She likes bears, but not as much as Diction, and she prefers cats.
Ashley's favorite Pokemon is Vaporeon
Ashley has arachnophobia and acrophobia.
Ashley's favorite game is Final Fantasy: Mystic Quest.
Diction and Seamus referred to her as 'AssBear' in the Top Ramen Minecraft map. This was started when Diction would misspell her name as AssBear when having to teleport
She dislikes Princess Peach and Goombella too as quoted in her tags "Princess Peach Sucks and Expects Us to Do Everything For Her...Goombella sucks too cause she fugly."
Ashley has been dating SSoHPKC since February 4th 2012.