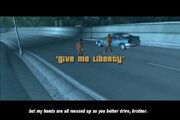 8ball's Hands
is the name of the guild of the
Creatures
in the game Star Wars: The Old Republic, a MMO. The name is a reference to the character 8Ball in one of the Grand Theft Auto games, a character with "messed up" hands.
Kootra, Nova, and Sp00n decided to make a Guild in the game, the three tried to get some random to help fund the group. Failures after failures, the three found a random and then kicked him. Lately the series went away and the fate of the guild is unknown.
8ball's hands was briefly mentioned on Creature Talk episode 146.
Ad blocker interference detected!
Wikia is a free-to-use site that makes money from advertising. We have a modified experience for viewers using ad blockers

Wikia is not accessible if you've made further modifications. Remove the custom ad blocker rule(s) and the page will load as expected.