The 24 Hour Mega Stream Spectacular
was an event in
Creature
history to celebrate them finding a
Creature House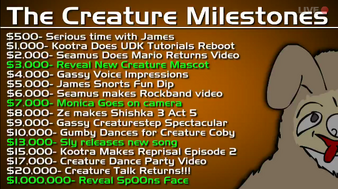 . Hence the title, the livestream was a 24 hour/one day stream involving most/all of the Creatures.
History
On January 14, 2012, Kootra and several other Creatures were hinting at something special via Twitter and gave a link to a livestream channel. When the time came close to the mysterious announcement, Gassy played some dubstep. The announcement was a video set in Minecraft (that was later uploaded to YouTube) featuring Kootra announcing that the Creatures had found a business office and were later going to move in, to celebrate this, they held a 24 hour livestream the day after, where fans could donate to them for the Creature House and for a charity titled 'Habitat for Humanity'. The total of donations hit $20,000 dollars 2:53 AM EST January 16, 2012. The stream lasted for a total of 24 hours, 4 minutes, and 43 seconds and they raised $30,873, with "around 9 to 10k going to" Habitat For Humanity.
Milestones
Completed
Incomplete
Seamus' Mario Returns video
Seamus' Rock Band video
Shishka 3 Act 5
Reprisal Episode 2
Gassy Creaturestep Spectacular
Creature Dance Party
Not Reached
Games Played
Left 4 Dead 2
Draw My Thing
Team Fortress 2
Red Dead Redemption
Hydro Thunder Hurricane
Halo 3
Minecraft
Trivia
Ad blocker interference detected!
Wikia is a free-to-use site that makes money from advertising. We have a modified experience for viewers using ad blockers

Wikia is not accessible if you've made further modifications. Remove the custom ad blocker rule(s) and the page will load as expected.